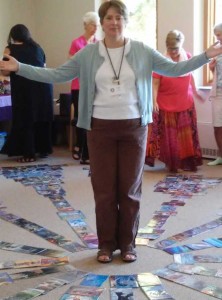 "Through art we can come to an experience of revelation about ourselves and about God." Christine Valters Paintner and Betsey Beckman.
Through creativity we can move beyond words and into new experiences of God. This isn't just for artists, though a watercolor artist friend tells me that we are all artists. Awakening the creative spirit is for all of us because all of us are yearning to explore and express our experience and connection to God.
Judy offers both individual spiritual guidance with art, and classes integrating creative expression with spiritual exploration. On the News & Events Page of this web site, you can see the current classes being offered. So what does spiritual direction with art look like? Similar to conversational spiritual direction, it begins and ends with prayer or meditation. There might be a spiritual reading to help guide the time. There might be questions asked that pertain to your spiritual journey or a particular issue you are facing. You explore through image and color. This is time for you and whatever exploration you need. Then we come back together and we listen to what the experience was like for you. We aren't focused on outcome, but on process. We pay attention to feelings and any resonances or dissonances.
For several years, Judy has led groups through "Praying in Color." While she still does that, she has expanded her art and spirituality activities and experiments by combining different media with a contemplative practice. In September, 2015 she completed the SoulCollage® facilitator training.